Joyful gatherings, family reunions, hours spent in the kitchen cooking elaborate meals and preparing big feasts that will be eaten while sitting around carefully decorated tables; there will also be present exchanges, laughter, the sound of repeated sparkling toasts taking over from songs and merry melodies. These all combine to gradually warm up the cold that our bodies have felt outside the glass windows full of condensation.
If this picture sounds familiar for this time of the year, even though you are not from one of the western countries in the world, it is because this is the traditional image that we generally associate with Christmas festivities.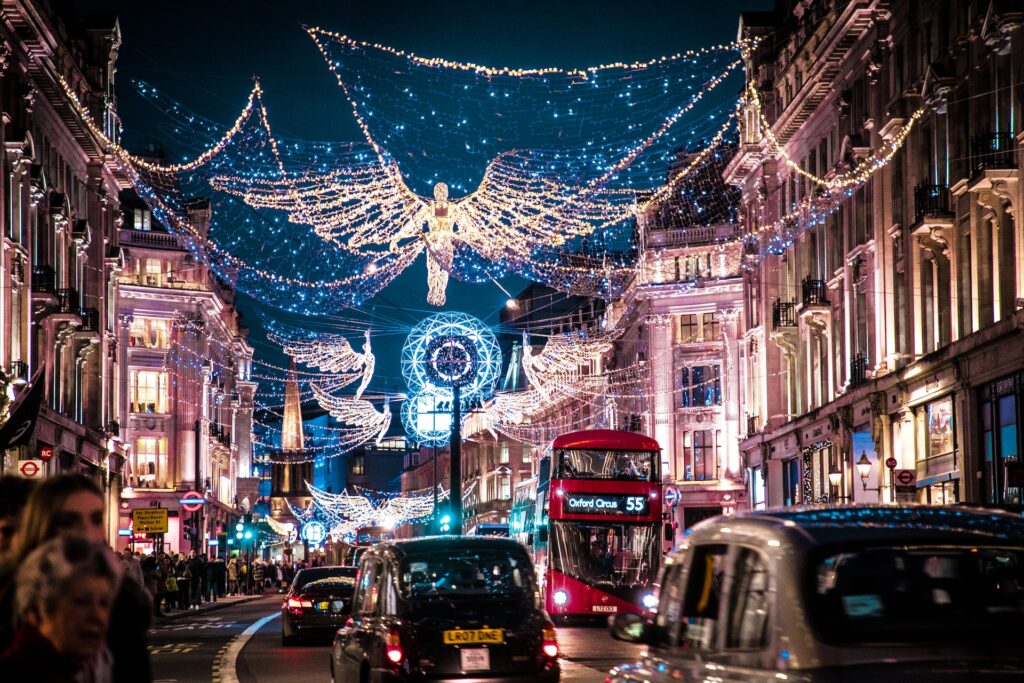 However, it is interesting to note that it wasn't always like this and, above all, it is not the same picture that emerges everywhere.
In the spirit of a growing global and diverse community that we are aspiring to support, we would like to take a cultural look at the approaching festivities and celebrate Christmas by travelling around the world through different cultures and traditions.
LIGHT UP MY NIGHT
Light seems to be very popular when it comes to showing our love and attachment to Christmas – both in the spiritual sense and in the more practical, visible one.
Many city streets are revived by the appearance of creatures and decorations that seem to sprinkle magical coloured sparkles through the night.
From November until the beginning of January, several central London streets display a spectacular variety of art and creativity hanging from the sky. From Oxford Circus to Regent Street, passing through Carnaby Street and Marylebone, from Piccadilly to Covent Garden and Seven Dials, it is like a silent concert for the eyes that gently compels us to keep our gaze up and camera in hand.
But the capital is not the only place to attract attention and entertain with lights. In the UK, in general, people like to decorate the façade of their house and front gardens, but it is in the US that this tradition can take over the whole city, for example the Winter City Lights, near Washington, D.C., recognised as the largest Christmas light show with over 1 million twinkling lights across an 18-acre winter wonderland. Or the Trail of Lights in Austin, Texas, that this year celebrates its 58th anniversary by displaying 90 glittering trees, made up of more than 2 million bulbs.
The Cavalcade of Lights in Toronto creates top-notch scenery, where more than 300,000 energy-efficient LED lights illuminate the main square and the Christmas tree, accompanied by massive animated trumpets of fireworks.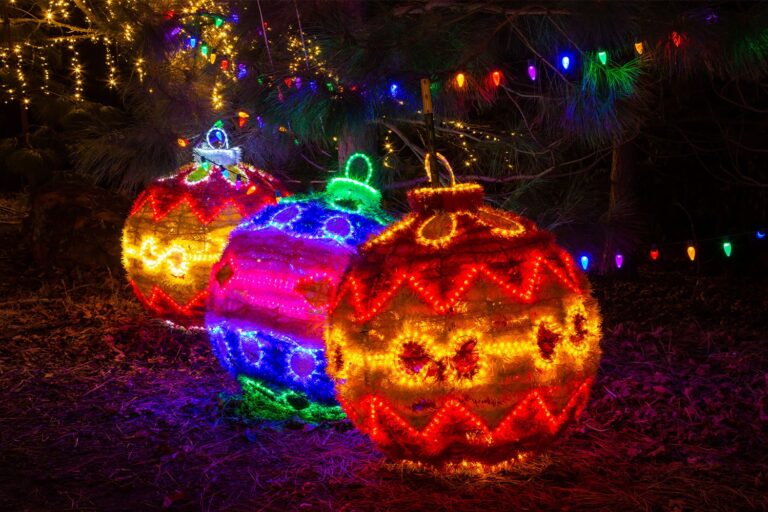 BEYOND LIGHTS
In Venezuela, Christmas is very colourful and filled with all sorts of festive sounds: the bells of the churches, of course, gathering people for Mass, and the sound of fireworks, but the most unusual sound is that of skates rolling on the public roads, closed to traffic for the occasion, to allow the observants to move undisturbed to the church for early Christmas Mass.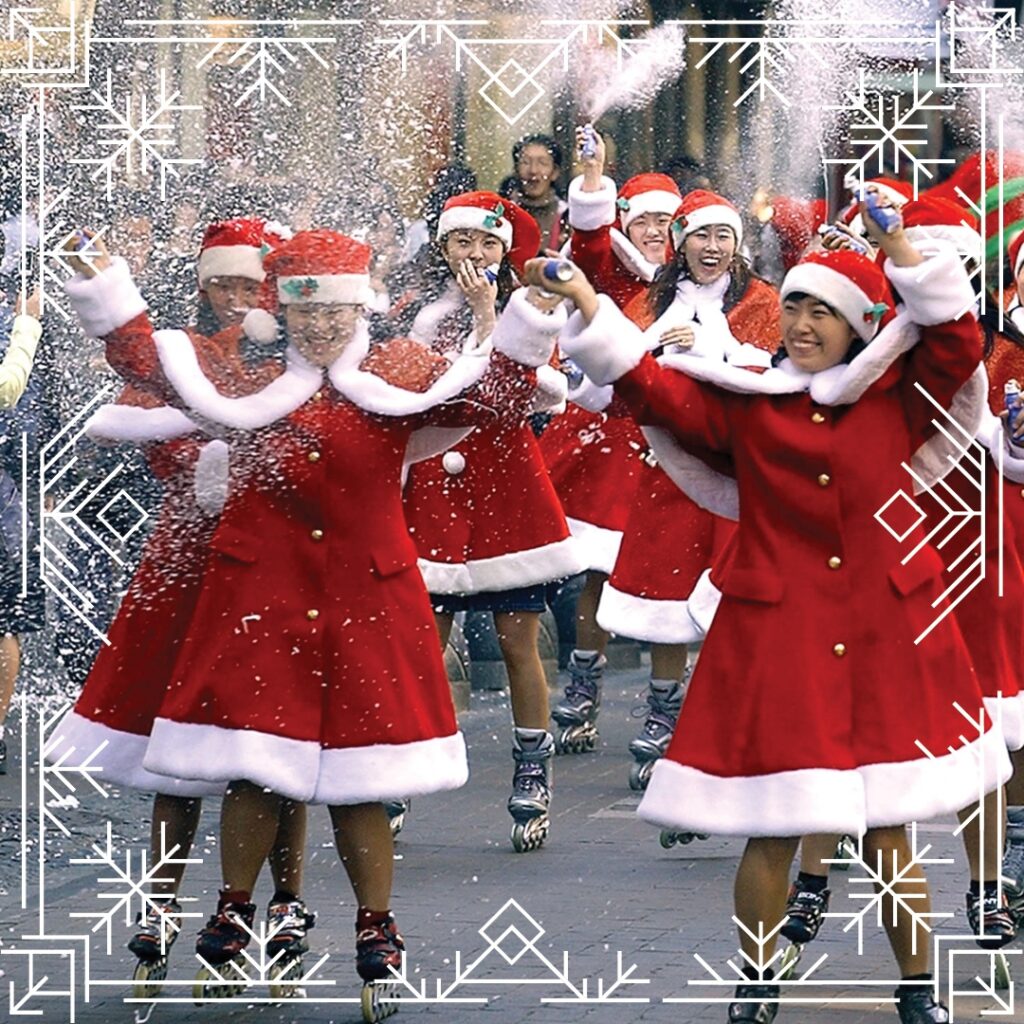 The city of San Fernando is known as the 'Christmas Capital of the Philippines' because it is here where huge beautiful round lanterns are crafted, and where the so-called Giant Lantern Festival (Ligligan Parul Sampernandu) started, which is held each year on the Saturday before Christmas Eve.

A common tradition is to put up a Christmas tree, which in western countries has quite a standard look: a pine or fir tree, tall, evergreen and pointed, as these kinds of tree generally are. Even in countries like China, where the majority are not Christian, traditional 'western' Christmas trees can be found in malls and big shopping centres over the festive period, more as a symbol of commercial festivity than a strictly religious one – that only interests a very tiny percentage of Chinese residents of whom less than 1%, in fact, are Christians.
And in India, where there are no evergreen trees available for the role, you are likely to spot a nicely decorated banana or mango tree in one of the 25 million Christian households.
But we need to come back to cold Europe to find the father of Christmas tree decorations. Germany is also renowned for its traditional Christmas markets, that appear over December essentially in every town of the country's Lands, and which warm the atmosphere and lovely historical squares with litres of hot, spiced mulled wine, freshly cooked sausages, and nuts roasted in sugar.
We are used to associating Christmas with snow and cold weather, however we should not forget that half the planet is in the southern hemisphere. Therefore, while in Europe and Northern America we need to insulate ourselves with a warm jumper, and a wool hat, scarf and gloves, in Australia people go to the beach for a picnic with family and friends on Christmas Day.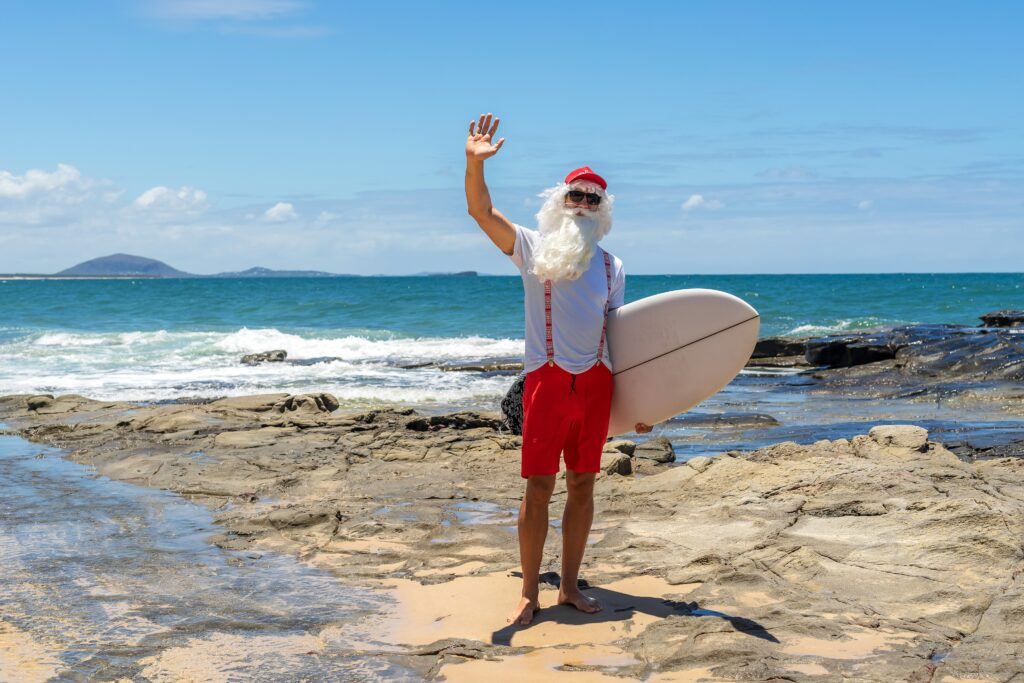 The first winter I spent in Brazil, while I was living in Rio de Janeiro in 2007, I started to feel a bit sad for not having the 'traditional setting' I was used to in Italy, and I was even madly craving some snow.
And then one day I assisted with a TV commercial for a local beer and that changed my mind on the matter.
A lady walking along a silent empty street, rushing home carrying what looked like two pretty heavy bags of food and wrapped presents, fighting the snow and wind blowing against her body. And a headline appears: 'Christmas in Europe'.
And then, a sudden change of scenery. Loud uplifting music, people partying on the beach of Ipanema, wearing their bathing suits and splashing cocktails while dancing and evidently having fun. And the headline goes: 'Christmas in Brazil'.
For someone who comes from the hot land of Sicily, this new tradition began to feel acceptable.
So, instead of missing the distant and deeply unwanted cold, I started telling my friends to grab their Christmas presents and meet me at the Pedra do Arpoador.
You might think that this is a rhetorical question, because we have been told that Christmas occurs on 25th December, and starts from the midnight of the 24th if we want to be religiously strict.
However, it is true that there are countries where Christmas Day falls on a completely different date. For the Ethiopian and other Orthodox churches – Russian, Greek, Eritrean and Serbian – the day is called Genna and falls on 7th January in the Gregorian calendar.
Ethiopia is an extremely traditional country and all the religious festivities are celebrated in full by the whole population, in all the corners of the country.
However, some of the iconic religious cities are linked to the festivity more than others, and I was told by my friend, and destination specialist, that Christmas is the best time to visit Lalibela.
On Christmas Day you will approach one of the thirteen majestic churches, literally carved from the rock of which those hills are made. Then you will move together with a human river of people – many of whom will be wearing traditional clothing called Netela, a white garment with woven coloured borders – while mumbling archaic sounds in unison in a trance.
But, be aware that it is very likely that you won't be able to reach the inside of the building today, since it is very small and people quickly overfill the space and spread out and up onto the hills, at street level. But regardless of whether you are a Christian or not, you will still be there absorbing the elevated energy from groups of the devoted, enjoying the full musical notes of the unknown language.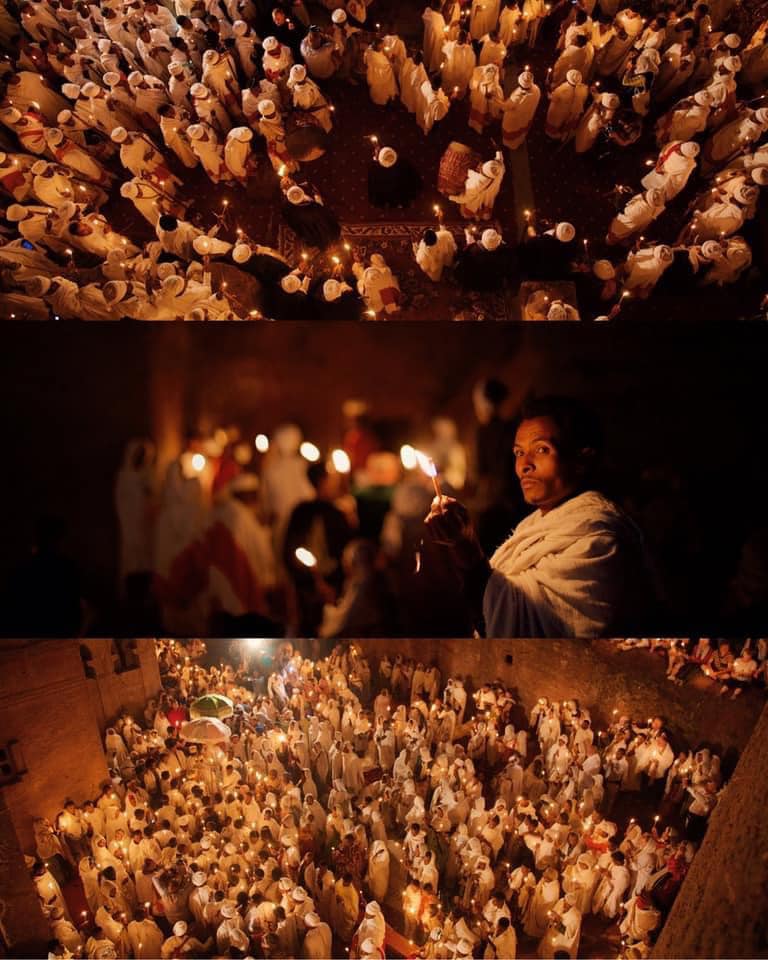 ….the trip will continue at the breakfast, lunch and dinner tables, to explore the tasty Christmas food that is savoured by people around the world.