One cook's trash is another bartender's treasure. Becoming more sustainable in our everyday life is usually all about small steps we can take in order to gradually introduce the big changes.
Sometimes it is as simple as pausing to ask yourself, Why am I throwing this away? Or Is there anything else I can use this for? or simply challenging the widely accepted norms, like the use of plastic straws in cocktails or napkins instead of coasters.
Turning Food Waste into Drinks
When Khun Arm, our Head Mixologist and overall Beverage Maestro, was challenged to create a cocktail that re-uses food waste and uses local spirits he remembered the large quantities of pineapple skin that ARE thrown away every day and came up with a recipe that includes an ingredient that dates as far back as 1670: oleo saccharum.
The local Phuket pineapple is a perfect example of a zero-food-miles INGREDIENT, as well as Saneha Gin, which is made the artisanal way using fermented pineapple and sugarcane juice for the distillation AND infused with tropical botanicals to create a refreshing concoction we call "Zero Miles".
Enjoy!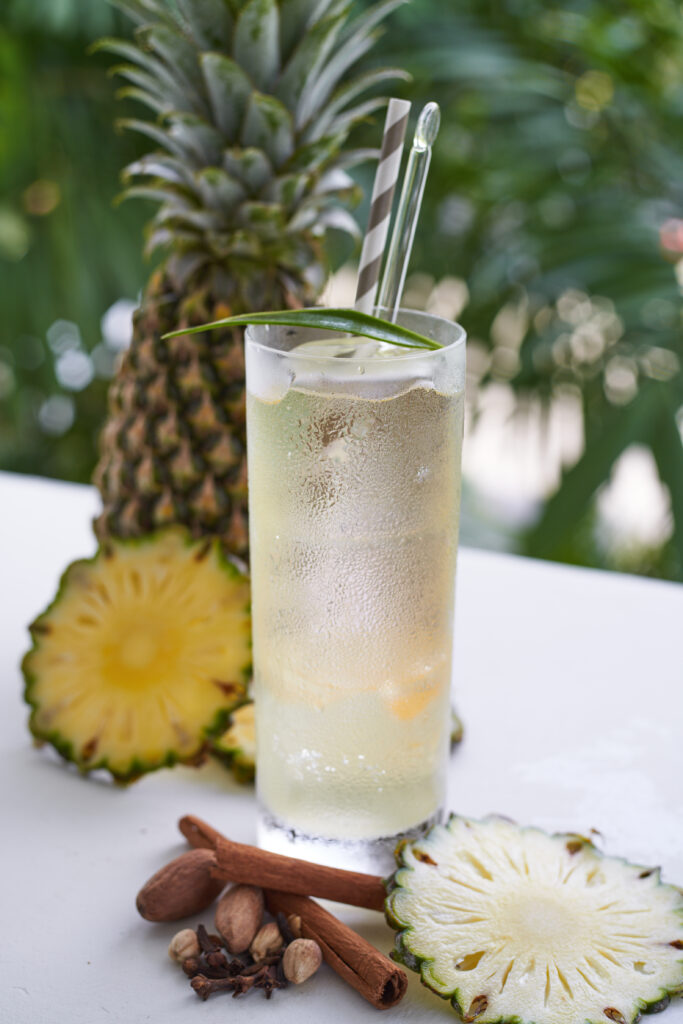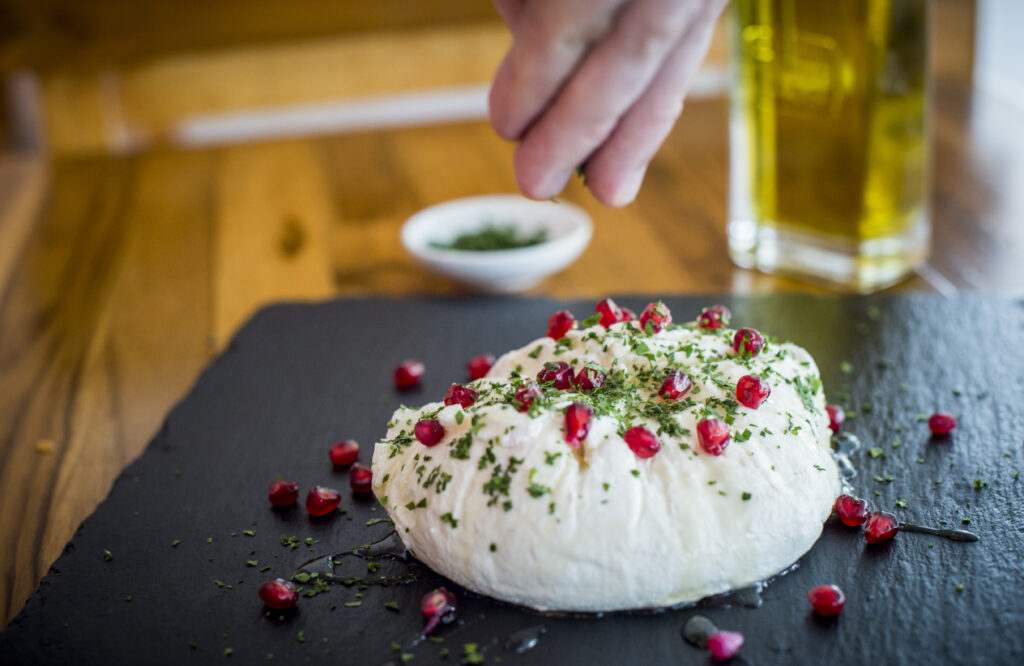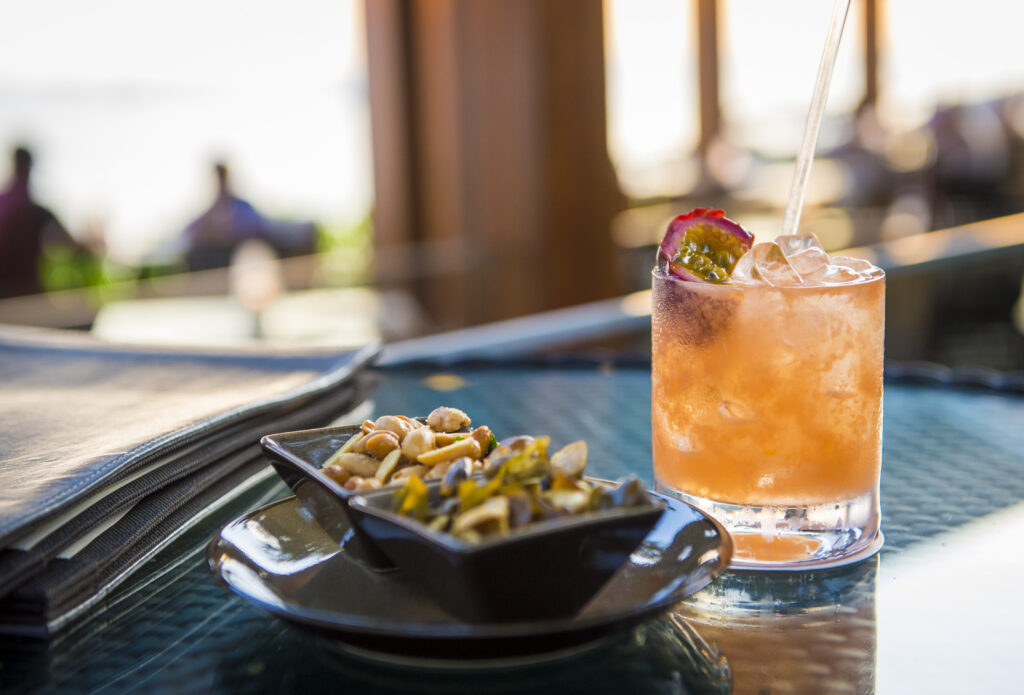 Sustainability options at every turn
Since reopening in 2016, Nai Harn Phuket have dedicated their sustainability efforts to ensuring they source locally, give back to local communities and are activating eco-friendly practices, which can be seen across the resort:
– Paper straws in all bars and restaurants
– Glass stirrers for the mixologists
– Coasters made from discarded linen
– Local Phuket ingredients including seafood, fruit and vegetables, to name a few
– Menu cards made from re-claimed wood and recycled paper
– Furniture at the gastronomic restaurant PRIME made from re-claimed wood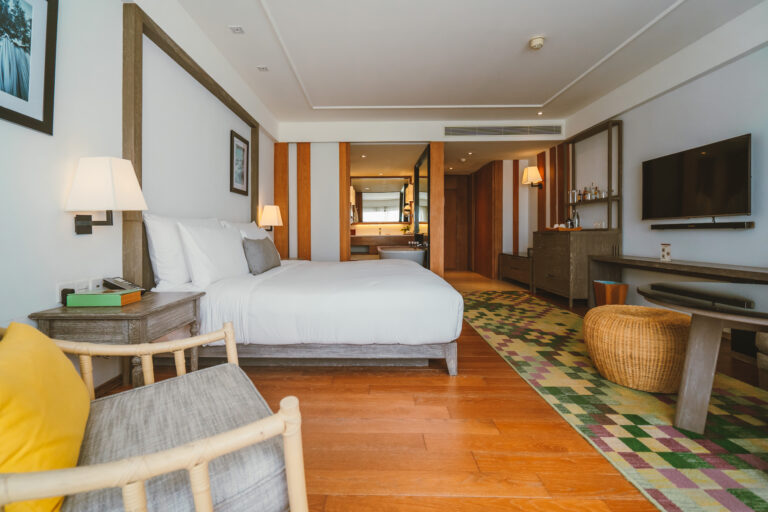 Environmental & Green Initiatives
Outside the hotel itself, the staff team at The Nai Harn regularly organizes and participates in environmentally and socially conscious activities and events, including mangrove planting days, and beach clean-ups.
Ongoing green initiatives at The Nai Harn include the use of natural fertilizers in the garden, which is made from a mix of compost and effective microorganisms and produced on-site using fruit peels and wet waste.
Eco-friendly cleaning products are also utilized and all the guest rooms, suites and public areas are fitted with energy-saving bulbs or LED lighting. For water conservation, the bathrooms feature low- flow shower heads and faucet aerators. All the toilets have dual flush functions.
Grey water is used for the plants in the resort's gardens. Flora such as bougainvillea trees are not only chosen for their colorful hues, but also for their low water consumption.
To minimize the distance between farm and table, the resort team plants and maintains its own on-site vegetable and herb garden. Plants such as Pandanus amaryllifolius are grown for decorative purposes, as well as used as ingredients for desserts.
It doesn't stop at the resort
Cooperating with local businesses enables The Nai Harn guests to experience life around Phuket, while giving back to local communities and its wildlife. Options include an award-winning marine life protection dive operator, Sea Bees, and an ethical elephant sanctuary, Phuket Elephant Sanctuary.
As part of their continuous effort to integrate Corporate Social Responsibility values in their business, The Nai Harn implemented a range of new CSR activities over the course of 2018. One of the new ideas is the introduction of The Giving Bag, a concept created by two students from Cornell University School of Hotel Administration and implemented in a number of hotels worldwide. Rather than leaving behind items, hotel guests are invited to place unwanted items into The Giving Bag, which will be donated to a charity of choice. The charity The Nai Harn has chosen to support is The Phuket Sunshine Village, a local foster home for children in need. The cloth bags are specially made from discarded bedroom linen, stitched together by local Phuket ladies who were commissioned by The Nai Harn for their handiwork.
Charitable work, supporting local communities, encouraging wildlife conservation, as well as the countless in-house sustainable changes and reduction of food waste; turning leftover ingredients into delicious, tropical cocktails, really proves how The Nai Harn Phuket are pioneers in promoting positive impact tourism.