Over the past months it's been interesting to see new habits forming in response to the pandemic, but some of them have left us questioning the logic behind the decisions.
In the majority of cases when we talk to hoteliers about these decisions, they're driven by an objective to 'communicate' safety and hygiene but some of them actually create situations where the opposite occurs. We seem to equate single-use plastic or any other single-use material as being hygienic and often the 'processes' that are required for good hygiene are overlooked.
Having spent some time in hotels during the re-opening phases, here are the five most common new habits we've come across and some alternative solutions to consider:
Hotels and hotel chains that are achieving success have an unfailing commitment to change. They have a cryst
COVID kits come in different formats and can include single-use gloves, single-use masks, mini hand sanitisers even mini bottled water! Interestingly, some hotels have assumed that guests must want these and hand them out upon arrival without really knowing if it truly adds value to the guests' stay.
Colleagues at Innovation Lighthouse in Amsterdam tested this theory as part of an ongoing project involving a number of local hotels and they found that actually, guests didn't particularly value the COVID kits and said they could easily do without them.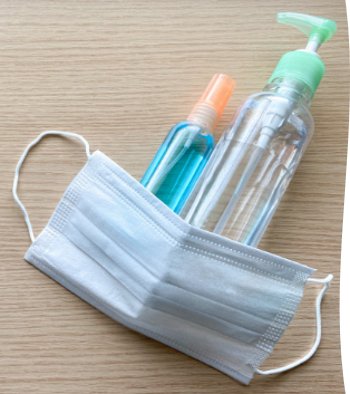 The one item they might have used was the hand sanitiser, however the hotel decided to increase the number of hand sanitising stations on the premises instead and guests were happy with this. The remainder of the kits were offered on request only, once the stock was finished they ordered no more.
Perhaps you could make reusable masks available for sale, supporting local businesses and creating an income stream for the hotel. If you are determined to keep using single-use COVID kits we would urge you to make them available on request only and to include information on responsible disposal. The amount of PPE being found on beach cleans is testament to how quickly our choices can negatively impact natural environments.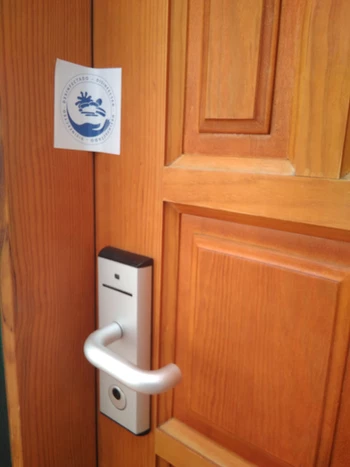 It is probably fair to say that we all expect our hotel room to be clean upon our arrival. Since the pandemic, we might also want to know it's been sanitized and disinfected but the sticker on the door doesn't guarantee cleanliness. It guarantees that no-one has been in the room since the sticker was stuck onto the door!
We have to trust that the room has been cleaned and sanitized. It is possible (though hopefully unlikely) that the room has not been cleaned properly and yet the sticker has still been stuck into place.
In actual fact, in my own recent experience our room hadn't been cleaned properly despite having a sticker on the door. The glass tumblers in the bathroom still had toothpaste stains in from the previous occupants.
Stickers do not guarantee cleanliness, good processes do.
Wrapping fruit like bananas and oranges that are already wrapped in their own skin doesn't make a lot of sense.
When we asked about the reasoning behind this choice we were informed that guests often pick up fruit to squeeze it to check if it's ripe, and this contact is a transmission risk.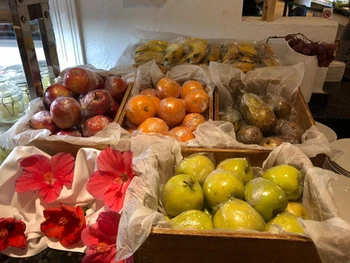 If you spend 20 minutes watching guest behaviour at the buffet, you will notice that they do this anyway even when the fruit is wrapped, so the film itself becomes the vehicle for transmission, it doesn't prevent the contact from occurring but it definitely creates waste.
For fruits like apples and pears, these could be served chopped as part of a mixed fruit salad or signage could inform guests that they are free to take apples and pears out from the buffet to consume later after they have been able to wash them. Ensuring buffets are equipped with sneeze screens will also go some way to minimising contamination.
Single-use plastic gloves have also seen a rise in popularity, these are one of the most worrying habits we've seen emerge as a result of the pandemic. The World health Organisation (WHO) advises against the use of disposable gloves as a substitute for handwashing, because they can give a false sense of security and may result in staff not washing hands as frequently as required. The process of frequent handwashing is a greater protective barrier to infection than wearing disposable gloves.
Wearing gloves keeps your hands clean, they do not prevent the spread of germs.
In order to properly sanitise a surface, the sanitising solution needs to be active for at least 1 minute and sometimes longer depending on the product.
It can be difficult to achieve this dwell time with a cleaning wipe, particularly if a packet has been open for some time and tissues have become dry. Rather than sanitising a surface, there is a possibility that they will just move germs around and spread them further.
The vast majority of cleaning wipes are made from plastic fibres, many are mistakenly flushed causing significant blockages to waste water systems and often ending up as pollution.
Where possible, opt for natural fibre, reusable cloths and incorporate a good cleaning and sanitising process for your housekeeping teams and staff to follow.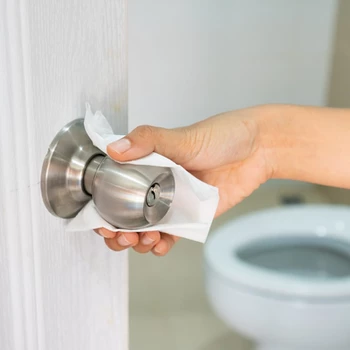 Also bear in mind that soap and hot water is good enough to clean many surfaces, it is not necessary to use harsh chemicals and bleaches unless that was already a part of your established cleaning regime previously.
For more advice on reducing single-use plastic and keeping staff and guests safe, take our FREE e-learning on this topic and let us know what processes you are able to change.